Parent Info
---
June 17, 2020 - CMBA Response to Return to Train and Return to Play Programs
Good afternoon everyone, first off I just want to thank everyone for their continued patience throughout this process over the last 3 months.
I am sure most of you at this point have heard or seen the releases sent out by Baseball Alberta and AHS regarding the lifting of restrictions for organized sports in Phase I and now entering Phase II of the Albertan Relaunch. I have heard from many of you asking the question, what does this mean for baseball and I have tried to respond to everyone, I apologize if I missed anyone. At this time the only thing that has been approved by BA is a return to train program.
All Baseball Alberta Member Associations were given a copy of the return to train guidelines from BA and were given a date of June 15th that associations could return to baseball using the guidelines in that program. Associations were also directed to put together their own return to train plans for use, which CMBA completed this past week for review and approval by the board at our meeting on June 15th. click here to open the CMBA Return To Baseball Plan. Though the "documented plan" was approved by the board at our meeting, the board voted at this time to not forego with the Return to Train program. Reasons associated with costs, lack of facilities(diamonds not being ready for use as of yet for organized sports) and the anticipated release from Baseball Alberta for the Return to Play program in which will lift even more restrictions, were contributing factors to this.
So our next step is that we should be receiving info from BA on the Return to Play program sometime within the next week, and we will work on a program using those guidelines that likely will be better suited for a return to some sense of normality with our game. So again we are asking for your patience while we await that release from Baseball Alberta. Once this information is released we will begin to put together the next phase to a return to baseball for CMBA.
With all that said, the board has also come to the decision that due to age and restrictions that will remain in place for this phase, we will not be offering any programs at this time for the 7U-Rally Cap Division. We have also had discussions regarding the 9U-Rookie Division, and at this time, due to age and restrictions still in place, it will also be unlikely that anything will be offered for this age group as well. But we would like to hear your feedback for this age group and we will review it at our Board meeting June 22nd.
We have put together a short 7 question yes or no survey regarding a return to Baseball in Camrose this summer. We will leave this survey open until Sunday June 21st. Your input and honesty on this survey will help us to know what the interest level is out there for this summer and moving forward. Please click this link to take you to the survey https://www.surveymonkey.com/r/JQZHLWD
Thanks,
Ryan Foss - CMBA President
---
June 6, 2020 - Baseball Alberta releases a "Return to Train" Document
Good Afternoon CMBA members. Please see the below statements released by Baseball Alberta on June 5, 2020.
http://www.baseballalberta.com/article/58776
http://www.baseballalberta.com/article/59848
In response to those releases, here is the official statement released by the CMBA President June 6, 2020.
"Camrose Minor Ball Association has received the information from BA and is taking this time to review and process all the information provided. There is a large number of documents and factors to go through, including the guidance documents for organized sports released by AHS. With this, approvals would also still be required from the City of Camrose in order to use their facilities.
Many of you are already asking what this release means for Baseball. What I can tell you is that BA has given individual associations approval to launch "return to train" programs starting June 15th, provided they meet the guidelines set by Baseball Alberta and Alberta Health Services. This is not a required program, but optional for any association who wishes to provide it. This could take many different formats (excluding any type of game format), depending on how individual associations plan to move forward. At this time, we will not comment on what a potential "return to train" program may look like for CMBA. Once the board has had time to review all the information and discuss our options, we will be releasing a statement providing details of what is in the best interest of the association.
We ask for your patience as we go through this process and considered all factors before any decisions are made."
Thank you,
Ryan Foss - CMBA President
---
May 10, 2020 UPDATE - 2020 CMBA AAA/AA COMPETITIVE LEAGUE SEASON CANCELLED:
Good evening CMBA families, for those of you that may have not yet heard, on May 8, 2020 Baseball Alberta's Board of Directors has made the difficult decision to cancel ALL in-person Baseball Alberta sanctioned events and activities until September 1, 2020 due to the COVID-19 Pandemic. This means that in addition to the cancellation of Community/House Seasons, all AAA and AA Seasons are now cancelled. We understand this will be disappointing news, but with the current Provincial health restrictions in place, it's become abundantly clear that there remain several hurdles to overcome before our players would be able to take the field.
CMBA fully supports the decision made by Baseball Alberta and agree that with the current state of the pandemic, full cancellations of the season was the prudent thing to do. Baseball Alberta is currently developing return-to-train protocols to allow for the resumption of in-person baseball activities once it is deemed safe to do so and in accordance with the recommendations by the Alberta Chief Medical Officer. Until that time, we will continue to refrain from all baseball activities.
CMBA will continue to monitor the current situation and if conditions improve to the point where we can safely provide some sort of development programs for our athletes we will try to do so.
An email will be sent out shortly outlining the steps we will be taking for the refund process. Please keep a look out for this.
We understand that many of you may have questions and there will be disappointment to lose out on an entire summer of baseball. These are incredibly challenging times but CMBA will always ensure that first and foremost the health and safety of our athletes, coaches, officials, volunteers and fans will be our focus.
Lastly, I would like to invite anyone to reach out to me directly if you have any questions or concerns and I will do my best to respond in an expedited manner.
Baseball Alberta Article http://www.baseballalberta.com/article/58776
Thank you,
Ryan Foss - CMBA President
---
April 19, 2020 UPDATE - 2020 CMBA COMMUNITY/HOUSE LEAGUE SEASON CANCELLED: Good afternoon CMBA Families, I hope everyone is staying healthy and finding ways to stay busy in these trying times. Hopefully this warmer weather will make things a little easier on us all.
In response to the recent statements (seen below) released by the City of Camrose and Baseball Alberta, the CMBA Board has unanimously voted to cancel baseball for our Community Divisions for the 2020 Season. This will include 7U (Rally Cap), 9U (Rookie) and all 11U, 13U, 15U & 18U Community/House programs. Baseball Alberta has and continues to discuss "other options" regarding the community division to date, but with the extended closure to our city parks and the uncertainty of what's to come with Baseball Alberta's extended date, we felt this was a prudent decision at this time. This decision did not come lightly to the CMBA Board!!
This does not include any of the Rep Programs (AA or AAA). Being these seasons run longer, there is still a possibility that these programs may start up at some point. We will continue to stay in contact with Baseball Alberta for information regarding those programs. With that said, CMBA has decided that a final decision on the Rep Programs will not extend pass the date of June 5th regardless of the stance given by Baseball Alberta or City of Camrose. We feel by this time if no decisions have come to light we will have enough information to make a knowledgeable decision on what the future will hold for our Association in relation to the 2020 Season. Our fingers will remain crossed that we have decisive answers for you prior to that date. Anyone who may have any other questions regarding the Rep program may contact me by email at any time president@camroseball.com
Back to the community divisions. We will be sending out an email to all our members regarding how we will be handling our refunds for those of you in these programs. This email will also discuss our annual Raffle Ticket fundraiser as well. As you receive the email please read it carefully to ensure your understanding on how CMBA will be going forward with this.
What the future may hold: The board has already discussed some ideas of potential programs we may look into doing this summer for any or all who may be interested. As there is a large number of determining factors still as unknowns at this time, we are not able to give any more information on this. This could come in the form of summer camps for the varying levels. One thing to keep in mind still is the FUNdamentals 1st ever Baseball Camp being held in July. Click the following link to visit the website for more information https://kcharchun.wixsite.com/fundamentalsfirst.
I want to thank you all for your patience and understanding as we navigate our way through this pandemic. Remember you're not stuck at home… you're safe at home.
Ryan Foss - CMBA President
---
March 22, 2020 Update: Good afternoon CMBA Families. These are definitely uncertain times for us all and we are continuing to work closely with Baseball Alberta through this crisis. We will also follow all the recommendations set out by the Chief Medical Officer and Alberta Health Services as things progress and we receive more information. On March 20th Baseball Alberta and Baseball Canada updated us with the below announcement:
CMBA will adhere to following these guidelines and suspend all sanctioned baseball activities and events until April 30th, 2020.
This has definitely created a lot of questions for us all. To address this, I have called an emergency meeting of Board of Directors for Wednesday March 25th via video conferencing to discuss any and all concerns and prepare for all possible scenarios going forward as if the season will start May 1st.
Thank you for your patience and understanding at this time. CMBA's priorities will always be the safety of our athletes and their families. If you have any questions or concerns, feel free to contact me.
Ryan Foss - CMBA President
---
March 16th update: At this time we are in limbo on the status of the upcoming season. On March 13, 2020 Baseball Alberta released a statement in response to COVID-19. Please see the attached statement: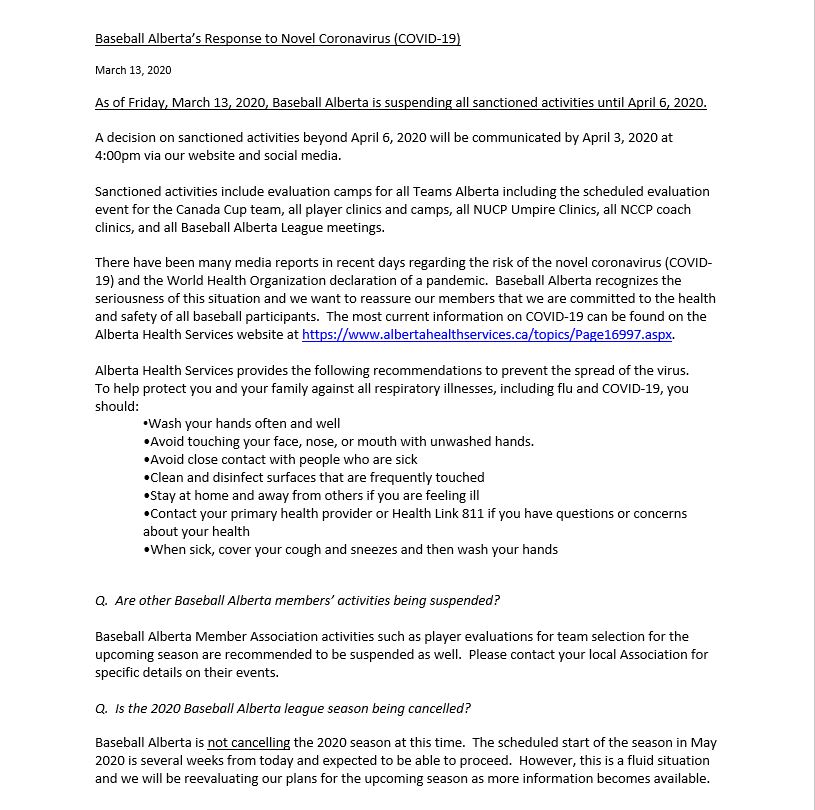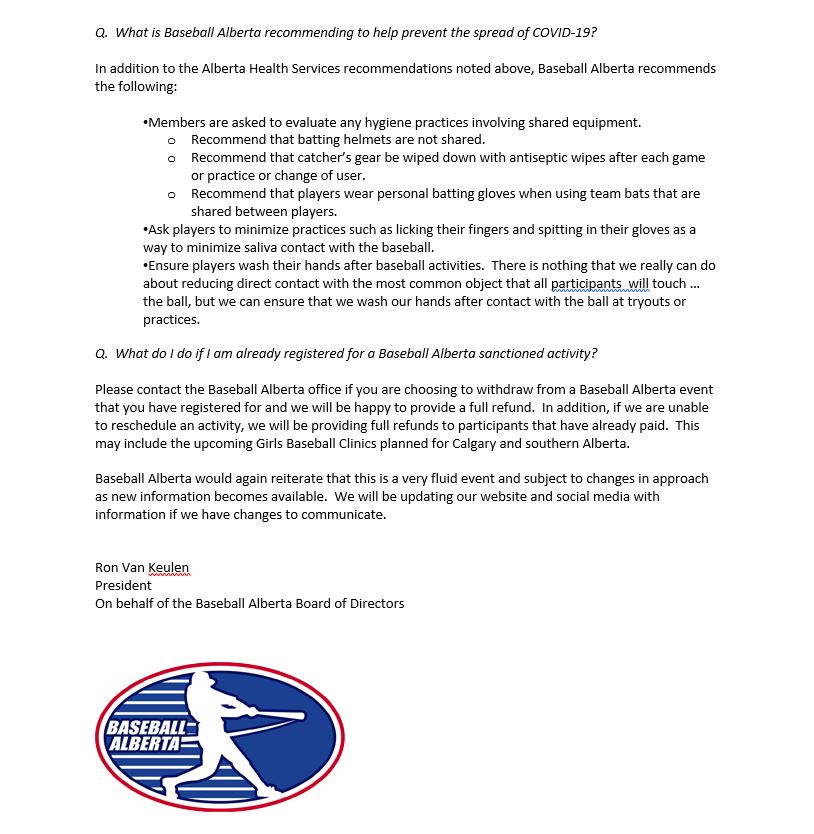 So in cooperation with Baseball Alberta, all CMBA sanctioned activities are postponed until April 6th. We will await the recommendations from BA on April 3rd and post updates based on that. Another consideration in all of this is what the City of Camrose will have for input, recommendations or direction at that time, as we are also dependent on the use of their recreational facilities which have also currently been shut down.
The CMBA Board will also be doing its part to ensure that we will be prepared for whatever decisions will be made in the oncoming weeks.
If you have any questions or concerns feel free to contact me or any of the board members for more information. Thanks
Ryan Foss - CMBA President
---
Thank you to all who participated in our Association Survey. The board has collected the information provided and is working on putting together some updates to our current programs in order to give all our members the best opportunity to have success in our program. Thanks for your feedback.
Ryan Foss - CMBA President